Obi-Wan Finale - The Loop
Play Sound
Jam Band (jamバンド) is the group that VOICEROID+ Tsurumaki Maki is a part of.
History
[
]
Jam Band is a special edition of "Music Maker Producer Edition" which is a DAW released by AH-Software that uses "cute girl" mascots to represent it. Jam Band is also featured on other AHS software such as "Sound Pool". 
Marketing
[
]
iOS App
[
]

In 2010 there was an iOS app created by JetgameLab, which is named jamSlidePuzzle. The game is a sliding puzzle game that you can play while listening to background music and character voices. The game was later updated in 2011 with the addition of a new stage and a sound test mode. It's requires iOS 4.2 to run. It is compatible with Iphone, Ipad, and Ipod Touch. [1] 
It also has a sequel called "jamSlidePuzzle2", released on Febuary 4th, 2013. It features new stages, and music. It's optimized for Iphone 5 but is compatible with Iphone, Ipad, and Ipod Touch, as long as the device has iOS 6.0 or later. Both of these apps cost ¥100 (roughly; $0.99 USD) each. [2]
Android Themes
[
]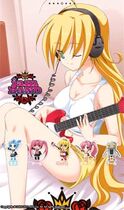 First created on January 17, 2012, Jetman Inc. has created different theme packs for the Jam Band characters. Jetman Inc. first created the theme pack only featuring Tsurumaki Maki[3], but over time, Jetman Inc. has developed different theme packs featuring other Jam Band members such as, Amane Kana[4], Tsutsumi Rythm[5], and Tsutsumi Kanon[6], respectively. In addition to these new theme packs, Jetman Inc. has also developed a new version of the Tsurumaki Maki theme labled "Jam Band: Tsurumaki Maki ver. 2.0" (jamバンド・弦巻マキ ver.2.0).[7] Jetman Inc. has also developed a theme pack that features all of the Jam Band members, excluding Mitarashi Mary, in their "RPG Versions".[8] All of them cost about ¥540 (roughly; $5 USD) except the first Maki version, which costs ¥324 (roughly; $3 USD).
pitagoe
[
]
Pre-orders for Mitarashi Mary voice recordings known as pitagoe (ぴた声) recorded by voice actress Ito Yuina (伊藤ゆいな) began on August 26, 2021.[9]
Jam Band members
[
]
Gallery
[
]

See Jam Band gallery- here
References
[
]
[

]