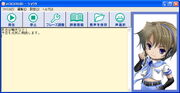 Welcome to the unofficial VOICEROID wikia, a wikia about the AH-Software speech software VOICEROID and VOICEROID+ which uses the AlTalk engine developed by Al Inc. We also cover its uses and development.
As this wikia is new, we would appreciate it if our guests and readers showed patience while we fix up pages. Please refrain from acts of vandalism, but all helpful edits are welcome.
VOICEROID+EX
VOICEROID+
VOICEROID
Who is your favorite Voiceroid vocal so far?

 © 
VOICEROID and all related titles, logos, images and characters are ™ and © of AH-Software. 2009–2014.

All Rights Reserved. Original Presentation 2009–2014 AH-Software. The images, text, and names etc. are used for non-profit informational purposes and all copyrighted images are attributed to their authors.

 © 
Latest activity
Edit