We're Getting Mutants in the MCU - The Loop
Play Sound
Yuzuki Yukari VOICEROID+ VOCALOID3 VOICEROID+ EX VOCALOID4 VOICEROID2 CeVIO AI A.I.VOICE | Originals
---
Yuzuki Yukari (結月ゆかり) is a Japanese VOICEROID+ voicebank by AH-Software Co. Ltd. in collaboration with Vocalomakets. She is capable of speaking and singing (as a VOCALOID only). She was released December 22nd, 2011. Her software was later upgraded to VOICEROID+ EX on October 30th, 2014, and VOICEROID2 on June 9th, 2017. She received a CeVIO AI voicebank released on January 29th, 2021. On February 16th, 2021, it was announced that she would be receiving an A.I.VOICE bank scheduled for release later in the year.[1]
Her voice provider is Chihiro Ishiguro (石黒千尋; Ishiguro Chihiro).[2]
Concept
[
]
The concept for Yukari is "She unites you all with her voice" (VOCALOIDに縁のある人達が音(月)を結ぶ).
While Akari is based off stars and starlight, Yukari is based off rabbits and the moon (specifically, the Moon Rabbit).
Etymology
[
]
The kanji for Yukari's last name, Yuzuki (結月), is comprised of "musubu" (結ぶ) and "tsuki" (月). "Musubu" means "to tie," "bind," or "link," referring to her theme of uniting people with her voice. "Tsuki" means "moon," referring to her concept.
Yukari is a common female Japanese name. One possible meaning is "connection," once again referring to how she unites people. Another meaning is "violet," referring to her color scheme.
Appearance
[
]
Yukari has purple eyes and lavender hair tied into two low pigtails - while the pigtails are long in length and reach her chest, the back of her hair is cut short. She has a pink hair accessory that glows, with the same accessory also being on either side of her hips.
She wears a sleeveless lavender tube dress that reaches her thighs. Over that, she wears a dark jacket with pink accents - the jacket is rabbit themed, as seen by the hoodie branching off into two long rabbit ears. She also wears lavender thigh high socks, the same color as her dress, and black flat shoes.
Relations
[
]
History
[
]
Marketing
[
]
She was also made capable to be bought with many different software bundles, including both her VOICEROID and VOCALOID versions and the software suite Music Maker MX.[3]
In 2012, merchandise for both Yukari and another AH-Software product, the VOCALOID SF-A2 miki, were put up for sale. The merchandise included straps, mugs, and T-shirts manufactured by the company COSPA.[4]
Mobile apps
[
]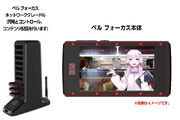 Yukari appeared in the Social RPG "Hack Doll - Nightmare Sequencer" (ハックドール-Nightmare Sequencer-) by Mobage. The game is for Android phones with Yukari as an unlockable by meeting certain conditions within the game.[5]
In 2015, a promotion app was made for the new Bell phone featuring Yukari[6]. This app lets users order the food from a restaurant and buzzes when the order is done so they can come pick it up.
Voicebanks
[
]
Yuzuki Yukari

Yuzuki Yukari is a mature female vocal and the second mature female vocal released. Her VOICEROID vocal is natural-sounding and she is capable of several expressions as she can change her tone to achieve different tones. The VOICEROID voicebank in conjunction with her VOCALOID voicebank and her eXvoice package can be used to achieve a level of expression not capable of any single VOICEROID or VOCALOID.
She is capable of several expressions early VOICEROIDs did not have.
Demonstrations
[
]
Gallery
[
]
For CeVIO specific illustrations, see Yuzuki Yukari/Gallery (CeVIO Wiki).
For VOCALOID specific illustrations, see VOCALOMAKETS/Gallery (VOCALOID Wiki).
For A.I.VOICE, Voidol, or Seiren Voice specific illustrations, see VOCALOMAKETS/Gallery (Vocal Synthesizer Wiki).
Character
[
]
Merchandise
[
]
Reputation
[
]
Status
Google Trends
Impact
Her success lead to two new additional vocals for Yuzuki Yukari V4 as well as an update for her V3 vocal, as well as the creation of another character.
Trivia
While Yukari is the first VOICEROID to be sold as a VOCALOID, she is not the first VOCALOID with the ability to speak. She is only the second, the first being Ryuto (Gachapoid). However, Ryuto uses V-talk and VOCALOID-flex instead of the VOICEROID software.
At the time Yukari was first released for VOCALOID and VOICEROID, she was rather very expensive if you wanted her to sing and talk.
Achievements
First VOCALOID to also be released as a VOICEROID.
First AH-Software (Vocalomakets) VOCALOID for VOCALOID3.
Has VOICEROID+ EX update.
First Vocalomakets VOCALOID to be updated.
First AH-Software (Vocalomakets) VOCALOID4.
First Vocalomakets VOCALOID to receive additional voicebanks.
First VOICEROID to also get a CeVIO AI voicebank.
Polls
References
[
]
External links
[
]
[

]