For more information on Yukari as a Vocaloid, visit her article here on the Vocaloid Wiki.
Yuzuki Yukari

Biographical information
Profile
Female ● 18 Yo ● 159cm
Voice
Chihiro Ishiguro
Illustrator
Juu Ayakura
Technical information
Release date
December 22, 2011
Website
Product page

Yuzuki Yukari (結月ゆかり) is a VOCALOID developed by Vocalomakets, a company of VOCALOID song producers. She was the first of the VOICEROID+ voices to have a VOCALOID library, both of which were released on December 22, 2011. Her software was later upgraded to VOICEROID+ EX and VOCALOID4 in 2015. On April 25, 2017 she was announced for the VOICEROID2 engine, which was later released on June 9, 2017.
Her voice provider was revealed to be Chihiro Ishiguro on her first anniversary.[1]
Voice description
Edit
Yuzuki Yukari is a mature female vocal and the 2nd mature female vocal released. Her VOICEROID vocal is natural sounding and she is capable of several expressions as she can change her tone to achieve different tones. The VOICEROID voicebank in conjunction with her VOCALOID voicebank and her eXvoice package can be used to achieve a level of expression not capable of any single VOICEROID or VOCALOID.
She is capable of several expressions early VOICEROIDs do not.
Voice sample(s)
Edit
Marketing
Edit
She was also made capable to be bought with many different software bundles, including both her VOICEROID and VOCALOID versions and the software suite Music Maker MX.[2]
In 2012, merchandise for both Yukari and another AH-Software product, the VOCALOID SF-A2 miki, were put up for sale. The merchandise included straps, mugs, and T-shirts manufactured by the company COSPA.[3]
Mobile apps
Edit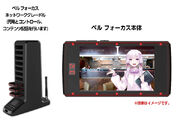 Yukari appeared in the Social RPG "Hack Doll - Nightmare Sequencer" (ハックドール-Nightmare Sequencer-) by Mobage. The game is for Android phones with Yukari as an unlockable by meeting certain conditions within the game.[4]
In 2015, promotion app was made for the new Bell phone featuring Yukari[5]. This app lets users order the food from a restaurant and buzzes when the order is done so they can come pick it up.
References
Edit
External links
Edit
[View]
Community content is available under
CC-BY-SA
unless otherwise noted.